Gerd's Story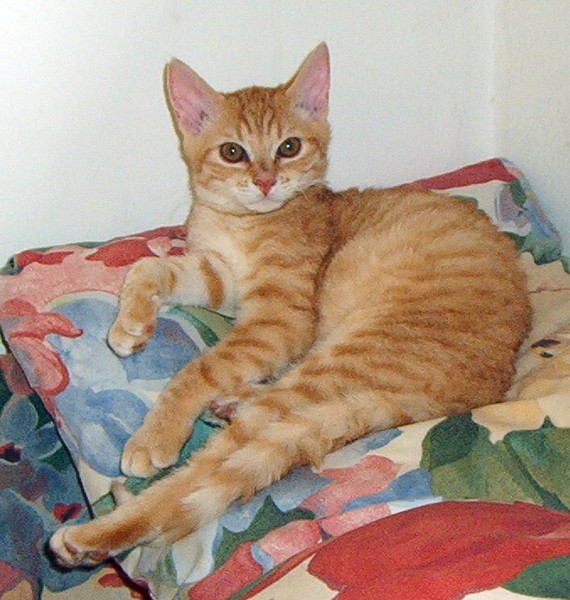 Moorteich's Gerd


Gerd is a Red Spotted Tabby German Rex. He was born in Stralsund, Germany by the breeder Reinhard Zintl. I first heard of Gerd in July 2005 when Ilona Jaenicke wrote to me about a hitherto unknown breeder of GRX in North East Germany. He had several kittens to find homes for, but they were not registered when he contacted her.

Ilona and another breeder in Germany decided to have some of the kittens - the line being different from the few fertile cats they have - and as Ilona knew that I was wondering who to mate with Evvy, she suggested that I think about having one of Reinhard's kittens myself.

As at that time we had just had such a good experience with Børve staying with us, we decided that it was a very tempting offer. The only problem was the doubts about registration. By then, Ilona had convinced Reinhard that he should fully enter the community of GRX breeders and register his cats. It was not too late to do that, so by the time we had decided on Gerd (by the photos we received), everything was properly organised. We had to work through Ilona and others so as to be able to communicate in our two languages, and by the middle of August all the arrangements had been made for us to drive to Stralsund and collect our very own GRX stud! This is Gerd with some of his siblings.

Gerd was born on the 6th May 2005, and we arranged to collect him on the 5th September 2005, so he was just four months old. Just before the journey Reinhard sent me an up to the minute photo showing how Gerd was growing in to a very good looking cat.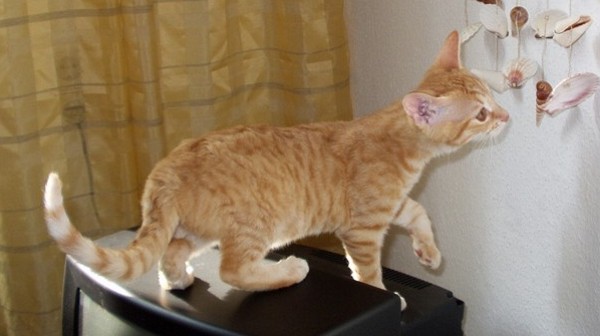 The journey took some planning as to get directly to Stralsund from our home by road or rail meant first going the wrong way across Denmark in order to reach Northern Germany, and then back the other way across country to reach NE Germany. In the end I decided to drive across the Storebælt and then south to the Danish port of Gedser. There we could take the ferry to the German port of Rostock, and thence only an hour by road to Stralsund. I could so wish!!!

Leaving Rostock at 12:55 we found the right road and thought that we were easily on our way. Then we encountered the road works! End result; an hour and three quarters so we arrived at Reinhard's flat at 14:25 instead of just before two o'clock. We managed to explain that we should get away as soon as possible due to the same road works on the way back to the ferry, so quickly met Gerd and some of the other cats and were away again by three o'clock.

The return journey met not only the road works, but complicated (and VERY slow) diversions around them, leading to a different main road so our carefully planned return route went by the board! Eventually we managed to find a road back to the right harbour in Rostock, only to miss the ferry by 5 minutes with a wait of two hours for the next one.

We arrived home at midnight - a long nine hour journey for all three of us. So to bed - me in the guest room with Gerd. By the time that a couple of weeks had passed, Gerd had grown some more, and was starting to get used to his new home as you can see here!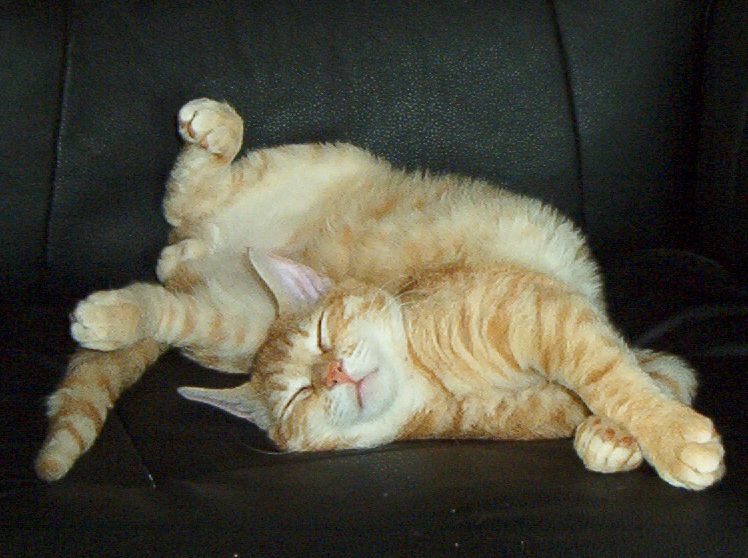 Nine days after Gerd's arrival Willow had her second litter. Thus she had enough time to get used to the fact of a new cat before she became the fierce mother cat again! Gerd still gets chased by her as the newcomer which frightens him, but the situation is sufficiently under control (by the Box and Cox technique!) that as her kittens grow and explore, Gerd and Willow will learn to accept each other. It helps matters that Gerd now sleeps with us - Tony, Myrtle, Snehvide, Misty, Peter and Evvy! As I write this, three weeks all but three hours have gone by. Gerd is learning to accept the fact that he is NOT the only cat to get my attention and will relax with other cats for company!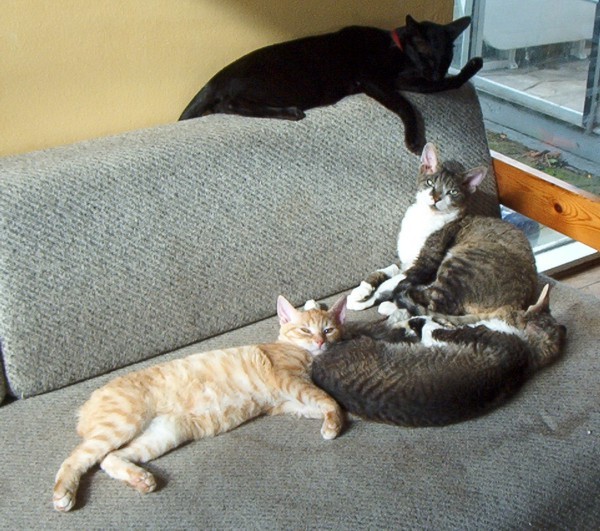 Now I am writing in February 2006, four months later. Gerd is nine months old and three of Willow's kittens have gone to their own homes. The Si-Rex girl, Cobweb, Myrtle is keeping for a possible mating - Willow is sterilised. Gerd always thought the five kittens were wonderful playmates, and still has two of the youngest ones to play with around the house, and especially the cat garden which has had a lot of snow to play in over the last month.

Now that the house is a bit quieter and Willow is even more relaxed, we think it is time that we take Evelyna off the p-pills and hope that Gerd will suddenly discover the joys of sex! This picture is of Gerd a few days ago; hopefully in a few months we will be able to add pictures of him as a proud father!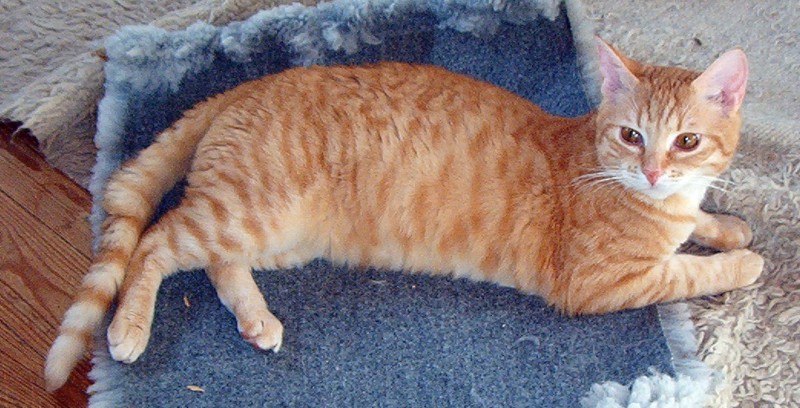 Postscript - Eventually in July Gerd and Evvy successfully mated, and in September 2006 the first Danish GRX litter was born. For that story and some photos go to the page Evelyna and Gerd's first litter

Gerd moved with us from Skt Klemens to Vormark and died there on 19th July 2022.He was 17 years and 2 months old and had been slowing down for some time when he ventually stopped eating completely. I decided to euthansie him to spare him further distress - he was simply, an old cat. Everyone adored him.